Protection of Trees Bylaw 9958
This bylaw affects all private property owners in Vancouver wanting to remove a tree.
If you want to remove a tree, you need a tree removal permit for every tree that has a diameter (width) of 20 cm or greater, measured at 1.4 m above the ground. A tree trunk with a diameter of 20 cm will have a circumference of approximately 64 cm.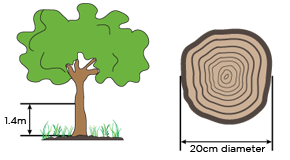 Permit display
The tree permit must be posted in a visible location during tree removal.
Tree removal conditions
NEW! On April 15, 2014, City Council amended the Protection of Trees Bylaw to maintain a healthy urban forest. Removed from the bylaw is the ability for an owner or builder to remove one healthy tree per year.

Property owners may be granted permission to remove trees, if one or more of the following conditions apply:

The tree on a development site is located within the building envelope

The tree is located such that a proposed garage or other accessory building cannot be located so as to retain the tree
An arborist certifies the tree is dead, dying, or hazardous
An arborist certifies the tree is directly interfering with utility wires and cannot be pruned and still maintain its reasonable appearance or health
An accredited plumber certifies that the roots of the tree are directly interfering with, or blocking sewer or drainage systems
Property development and trees
Unless a tree requires removal under one of the conditions listed above, all property development (renovation or new building) requires you to retain existing trees located on your property.
All trees to be retained on the site require protection during any construction or development. All trees on adjacent properties or boulevard trees that are in danger of being damaged must be protected as well.
An arborist's report is required to make a development permit application.
View the details needed in the arborist's report (Section 7.2)

(17 KB)
Explanation of amendments since January 1, 2014Section 4.5 has been repealed to remove an owner or builder's ability to remove one healthy tr
ee per year. Other amendments enacted on April 16 and 29, 2014, include renumbered sections, removed section references that are no longer accurate, and clarification of the owner's responsibility to comply with the bylaw. The revised bylaw section will be posted here soon.

For details in the interim, read

April 16, 2014 staff report (186 KB)
Appendix A (11 KB) is revised to include recent amending Bylaw numbers
Section 4 (77 KB) has been amended to reflect new fees, as enacted by Council on October 22, 2013, effective January 1, 2014.




Citation: Protection of Trees Bylaw 9958." Home. The City of Vancouver, n.d. Web. 08 May 2014.